Called "soft skills" they also come by "transferable skills", which I find more self-explicit. Some people even define them as "real skills".
The terminology "soft skills" try to separate them from "hard skills" but things are never perfectly black&white. Let's say that "hard skills" refers to your specific technical skills (how to perform experiment x, how to use a specific machine or software), whereas soft skills include those which you can apply in many different contexts: skills which you can transfer from one research project to another, from one academic position to another, or to a job outside of academia, or even at home (listening, emotional intelligence…).
If you're wondering (and maybe scared) of what you're gonna do with your life, after your PhD, after your post doc, after your contract ends… If you're losing your self-confidence. If you don't know where to start to do something about that question "what I'm going to do with my life?", stepping back from your technical work and trying to look at your soft skills is I believe the best way to start.
This is exactly what happened to me when I was losing my self-confidence and my motivation for research. I could not even decide whether it would be better to quit my PhD studies or not, I was feeling trapped and worthless. Then I attended a soft skills workshop about… what soft skills are and how to identify the ones I already had :)
The most important here is not how many soft skills one has nor how good at them one is. The most important for our personal life and self-esteem is self-awareness. First, and above all, we need to become aware of all the situations in our academic life that allows us, or sometimes forces us, to use and develop transferable skills.
Soft skills first include all aspects of management: self-management, stress management, time management, project management; but also your presentation and writing skills, your reading and organizing literature information skills, your teaching skills. I think today these are well recognized and valued skills even among academics, and probably these are the skills for which it will be the easier to find training.
Soft skills also include more personal skills like creativity, self-motivation, adaptability, listening skills, diplomacy, empathy, honesty, open mindedness, communication (when talking with someone, when writing an email), being independent but also being a good team member, mentoring, intercultural competence, and many more. For more, have a look at the references below.
In this first article I only wanted to clarify what I am going to talk about (i.e. soft skills) in the next few articles that look at specific aspects of the subject:
I've put together these 6 articles in one PDF for you to read easily the whole series, you can subscribe here to get it!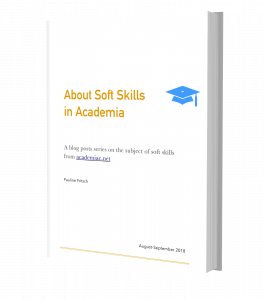 Thanks for reading and stay tune! :)
---
More reading: