Hello,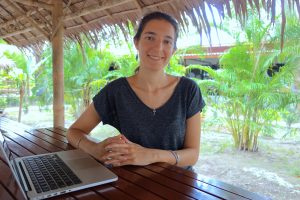 My name is Pauline Fritsch. I'm French, from Grenoble's region. I completed my PhD in neurobiology at the University of Fribourg, Switzerland, in the lab of Prof. Simon Sprecher, from February 2013 to September 2017 (about 4,5 years). I studied the visual system of Drosophila larvae, looking at their neural network and behavioral plasticity. For more details, here my CV.
I really love biology and research. I've long been fascinated by neuroscience, and I really enjoyed working in this field throughout my studies. However, I lost myself in the heaviness of the academic system where supervisors are buried under research + teaching + admin duties, and a system which all together makes everyone feeling so insecure (getting funding, getting a stable position, moving between countries, work/life balance, dealing with stress, depression, impostor syndrome…).
In addition, I think that not only students but actually all academics would highly benefit from earlier and better training in self-management, project management, human resource management, communication skills, team working, and other basic work organization skills.
I am happy with what I managed to do in my PhD and I am grateful to my supervisor. Nevertheless, along the way I realized that I was not interested in pursuing in a postdoc in my field anymore. I believe that there is another path for me to explore and which will still allow me to contribute to academia. For me, public research is a main source of positive development in our world. In order to fulfill their goals, academics need to have a safe and suitable environment to work in.

Along my journey towards graduation, I was inspired by a doctoral program which provided me with both work organization skills and classical academic skills like giving presentations. It also allowed me to meet many PhD students from various fields and to hear interesting stories about their ups and downs in their own journey.
This is why today, I am starting this blog, Academiac.net, to first share what helped me through the doctoral process and what I believe can help other PhD students. I will share my experience and what I witnessed from others.
Stay tune and feel free to sign up to receive my blog posts directly in your emails :)
What does academiac mean?
One day this word "academiac" popped up into my head. It just sounded good, at least to my brain. So I looked it up to see if it actually meant something. And the first result Google gave me pointed to a definition from a super high quality website named Urban Dictionary (yes, that's ironic):
"A person who is off-the-charts brilliant and insanely devoted to studying."

#academic #brainy #smart #maniac #nerd
Well, to me this definition is rather positive but that's maybe because maniac in French is not as negative as in English…
What about saying that an academiac is someone who is both passionate about his/her research and who also asks himself/herself about how the academic world is working and who seeks to improve it ?
(maniac) maniac within academia ≠ maniac of academia (academiac)
Thanks for reading this and welcome on academiac.net!  :)
Would you like to know when a new article is published? Sign up below to receive it directly in your inbox!
What about the pictures on this site? These are some lucky shots from myself, they are not really related to the articles' texts, they're just pretty  ^^