Hi,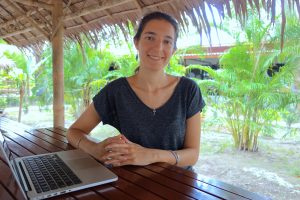 I'm Pauline 🇫🇷 🇨🇭 🇪🇺 🧠 🔬
This is a blog intended for ECR (Early Career Researchers), in particular for PhD students based in Switzerland 🇨🇭
I started it in 2018, after completing my PhD in neurobiology at the University of Fribourg (CH) in the lab of Prof. Simon Sprecher. For more details, have a look at my LinkedIn profil here.
Why a blog?
Just like anybody, to share stories, to put information together, to help spread awareness on some subjects which I believe are important. To share what helped me through the doctoral process in the hope to help current PhD students.
I've been exploring different formats, sharing some of my own stories, or others', writing reflective pieces, writing some guidelines, putting together helpful (or so I hope) resources, summarizing some scientific papers…
So far I've been focusing on the questions of #SoftSkills, #Career and #MentalHealth for PhD students because I think these subjects are linked. Check out all my articles here!
OK… but why?
Let's first say that I'm still early in my career journey. I'm not sure where I am going, but for sure I'm going there, and this blog is helping me forward 👍
I believe that public research is a main source of positive development in our world. To succeed in doing so, academics need to have a safe and empowering environment to work in.
I think that not only PhD students but actually all academics would highly benefit from earlier and better training in project management, human resource management, team work and team communication skills, time management and other crucial work organization skills.
I was inspired by a doctoral program, which provided me with such work organization skills on top of classical academic skills like academic writing. It also allowed me to meet many PhD students from various fields and to hear about their ups and downs in their own journey.
I'm also proud of what I accomplished in my studies, and I'm grateful to my PhD supervisor who is still highly supporting me today in my blog project and career choices.
Now I hope that I can support others too, through this blog and through my job :)
Starting February 1st, 2022, I still have difficulties to believe that I am now working at the University of Lausanne, learning with the best of the best as part of the team of the Graduate Campus to support all PhD students and postdocs of the University!
Before that, for 2 years, I had the chance to be the coordinator for doctoral programs in biology at the University of Neuchâtel.
Importantly: this blog is my independent activity, it is fully independent from the University of Neuchâtel and the University of Lausanne. In other words: opinions are my own.
I hope you'll find my blog interesting  😊  feel free to reach out, I would love to hear from you!
Would you like to know when a new article is published? Sign up below to receive it directly in your inbox!
What about the pictures on this site? These are some lucky shots from myself or my life partner, they are not really related to the articles' texts, they're just pretty! :)